Over the last week, doctors in Kashmir have performed about 150 eye surgeries to try to remove pellets from retinas. Most of the patients will lose their eyesight, one doctor said. "It's a fate worse than death," said another. No other country has wilfully blinded scores of youths.

Meanwhile the dead have been interred in martyrs' graveyards. Most localities, in city and country, have one so as to remember their slain. Those wounded will live in partial or total darkness all their lives.

Kashmiris say Azadi – or independence – is an infinitely better option.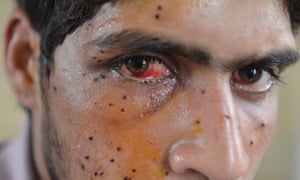 The steel pellets used by police and troops are officially a 'non-lethal weapon', but those wounded will live in partial or total darkness
Source: India is blinding young Kashmiri protesters – and no one will face justice | Mirza Waheed | Opinion | The Guardian